DIABETES + PRE-DIABETES
THE BLOOD SUGAR CONTROL EXPERTS
ONLY DIABETIC SHAKES & PROTEIN BARS CLINICALLY PROVEN TO CONTROL BLOOD SUGAR FOR 9 HOURS.

Free Shipping On Orders $50+ ● Guaranteed Satisfaction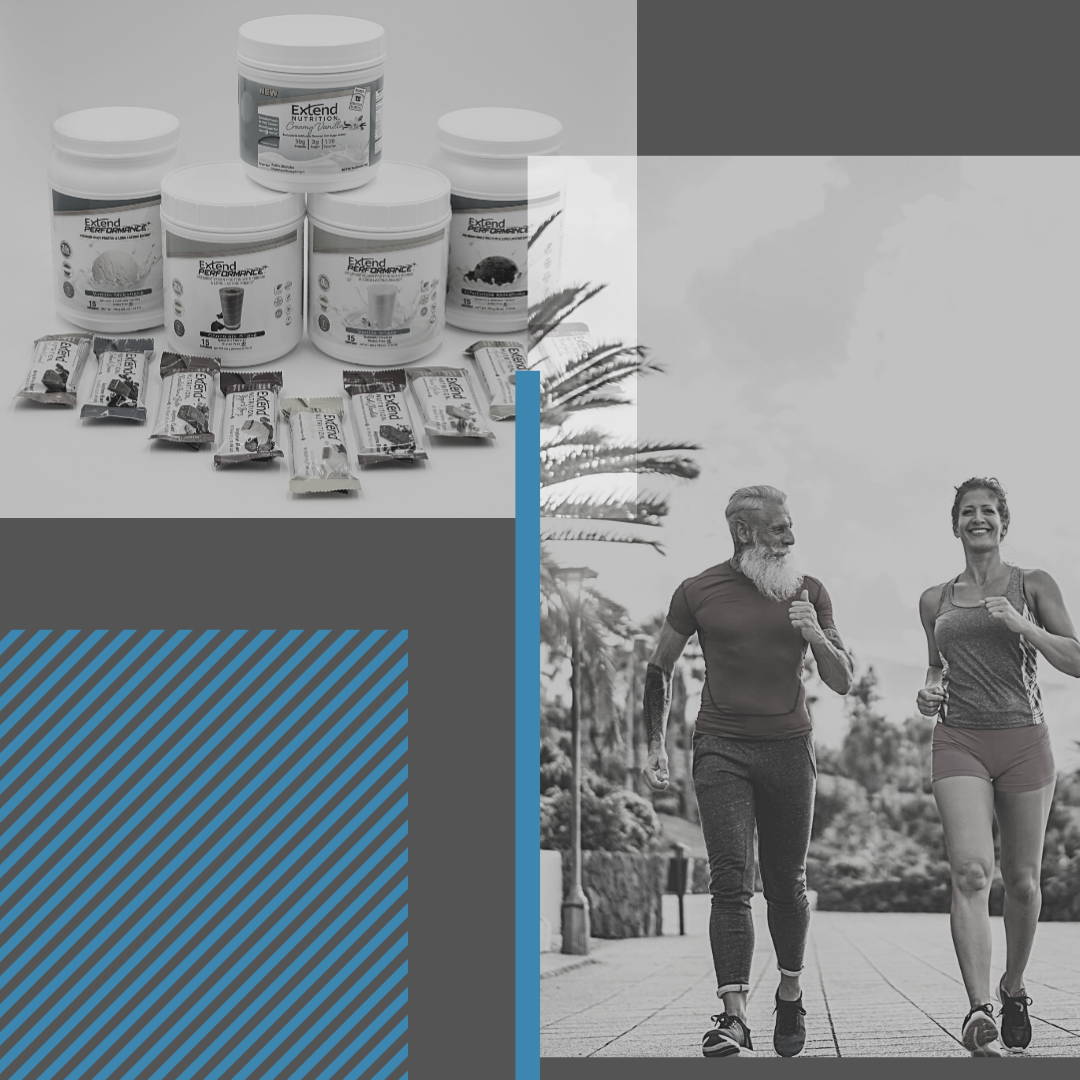 SERIOUS SCIENCE. SERIOUS NUTRITION.
Stabilized Blood Sugar = Hunger Control + Long Lasting Energy + Avoid Swings - No Spike or Crash

Blood Sugar Control For Up To 9 Hours
Curbs Appetite & Hunger Cravings
Healthy Long Lasting Energy
Clinically proven to reduce calorie intake by 21%
Reduce fat storage
No sugar added - ever!
Complements any healthy diet
Suitable for all ages
Low Glycemic Index
Great taste backed by science
Low-Carb & Low Calorie
See the Extend Difference...
Developed by Dr. Franchine, M.D., past President of the American Diabetes Association and world-renowned endocrinologist and metabolism expert, the Extend Nutrition formula is a patented combination of proteins, fast and complex carbohydrates that help control blood sugar for up to 9 hours, a feat unparalleled by competing products.

The Extend Nutrition formula has been verified by clinical studies and Glycemic Institute testing. Sydney University's Glycemic Index Research Service published "A study to measure the GI values of Extend Bar™ nutrition bars" in December 2004.

The Glycemic Index was developed in order to rank foods according to the extent which they increase blood glucose levels after being eaten

Foods with a High GI contain rapidly digested carbohydrate that produces a rapid and large rise and fall in the level of blood glucose. In contrast, foods with a Low GI value contain slowly digested carbohydrate produce a gradual, relatively low rise in the level of blood glucose.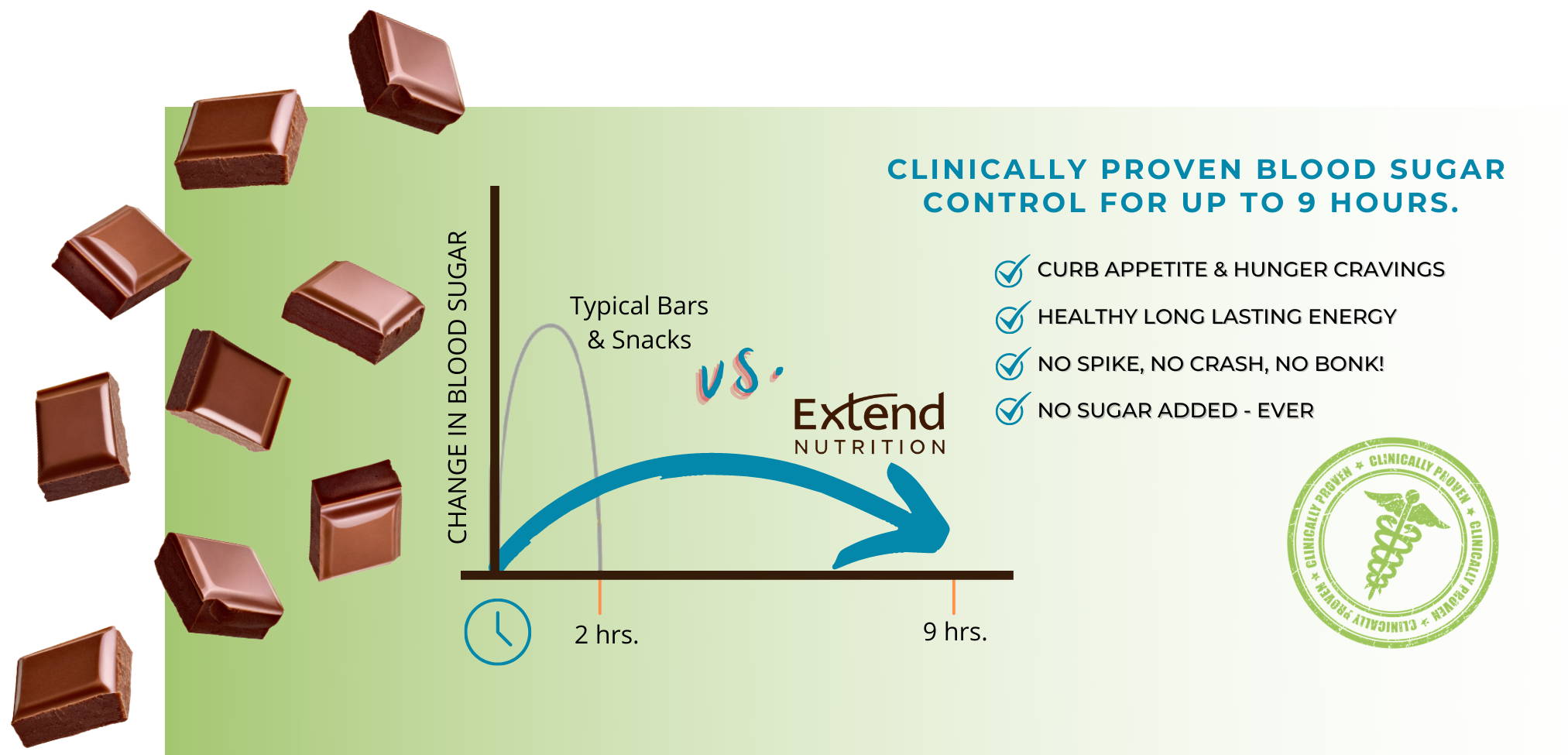 BLOOD SUGAR CONTROL DONE RIGHT.
LIVE THE EXTEND LIFESTYLE. BLOOD SUGAR CONTROL. TAKE CONTROL OF YOUR DIABETES.
"We know that lifestyle changes can prevent diabetes" Kaufman wrote in Diabesity. "We've proven that if people eat right, lose weight and become physically active, they can halt the progression to full-blown diabetes."

ARE YOU CONCERNED ABOUT BLOOD SUGAR SWINGS?
Our Extend Nutrition's products have a patented blend of carbohydrates that act like a 'time release capsule' for blood sugar, helping to deliver steady blood sugar levels for up to 9 hours.

ARE YOU CONCERNED ABOUT BLOOD SUGAR?
Our 'cold blanket' on cravings - Extend Nutrition products holds your blood sugar steady, signalling your hunger center that you do not need to eat. As a matter of fact, it is clinically proven to reduce calorie intake at your next meal by 21% on average when enjoyed as a between meal or snack.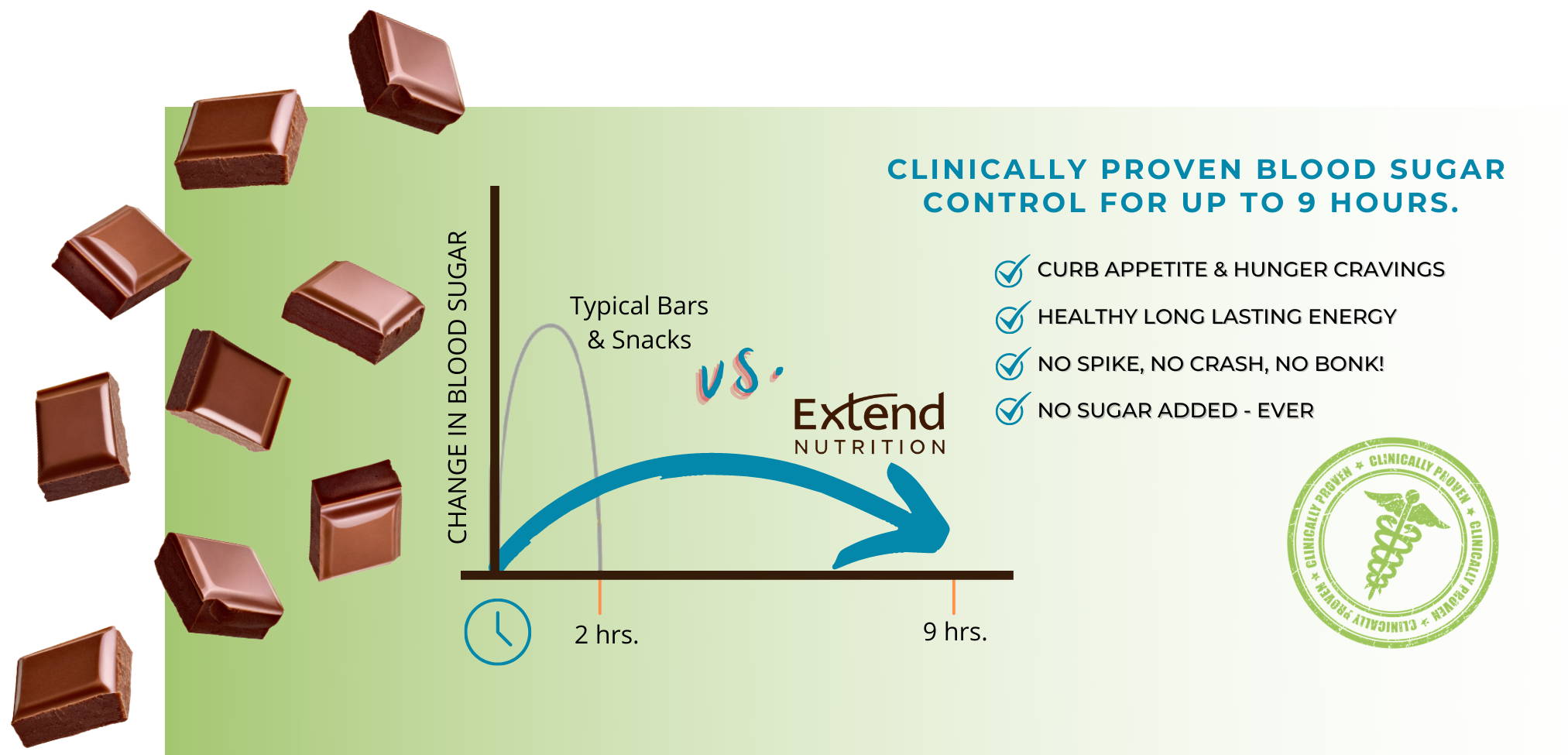 THE EASIEST "COMMITMENT" YOU'LL EVER MAKE
EXTEND BARS + SHAKES = REAL BENEFITS + REAL ADVANTAGES + REAL RESULTS

HOW TO USE EXTEND FOR DIABETES & PRE-DIABETES
Have an Extend Bar or Anytime Shake mid-morning, mid-afternoon, at bedtime.

Steady your energy all day and night and for a satisfying breakfast, lunch or dinner, try an Extend Performance Shake Powder with 20-24 gm of Premium Whey or Plant Based Vegan protein with Quinoa. A meal replacement you can look forward to!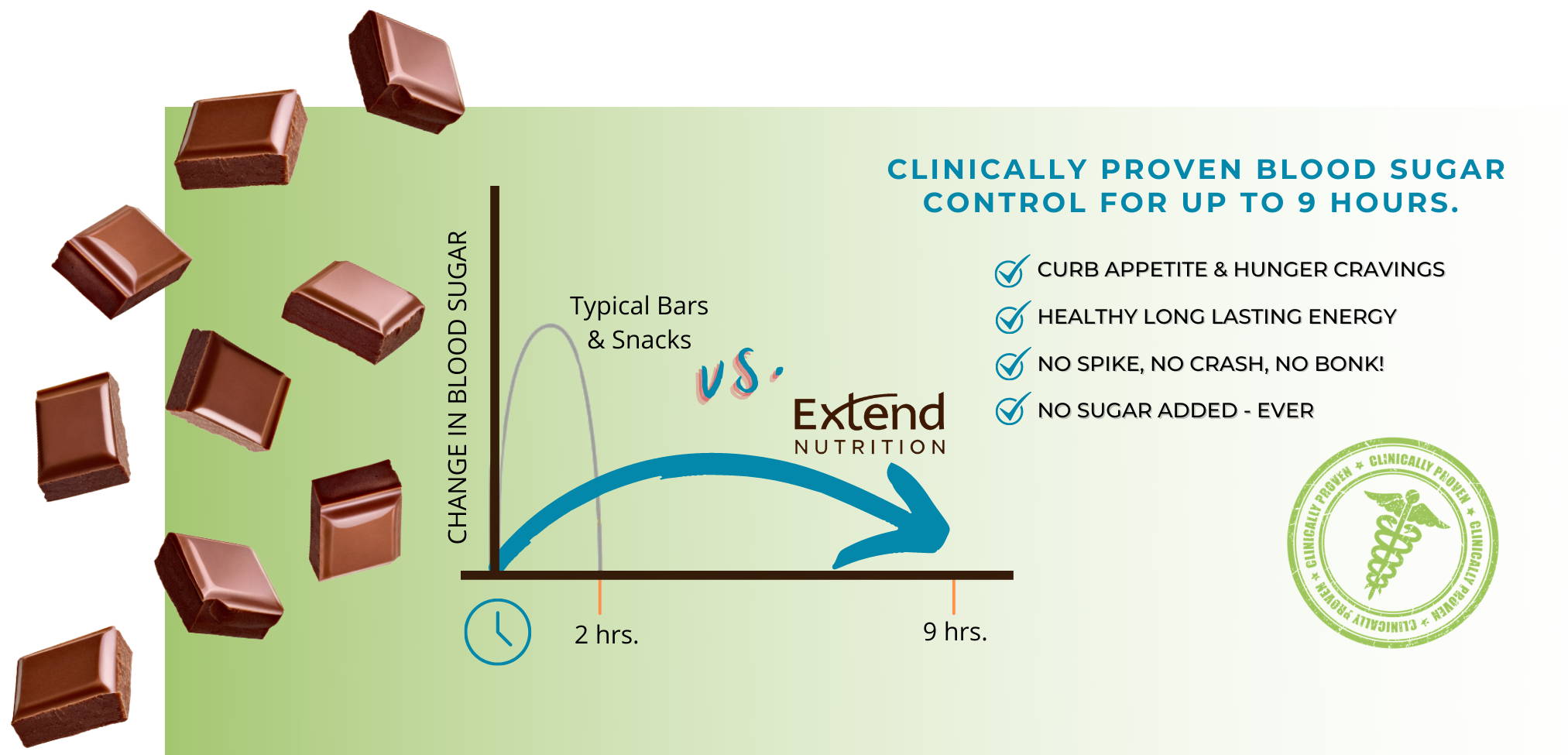 DESIGNED WITH HEALTHY INTENTIONS
When Dr. Francine Kaufman was searching for a way to help people with diabetes keep their blood sugar in healthy ranges she turned to an unlikely ingredient: raw uncooked cornstarch.

Young patients were struggling with serious low blood sugar overnight – called severe hypoglycemia. If left untreated, low blood sugar has serious consequences.

In a pilot study of children with diabetes at an overnight summer camp it was found that "uncooked cornstarch can diminish night time and morning hypoglycemia in subjects with diabetes, without causing hyperglycemia" (Kaufman, Halvorson, Kaufman).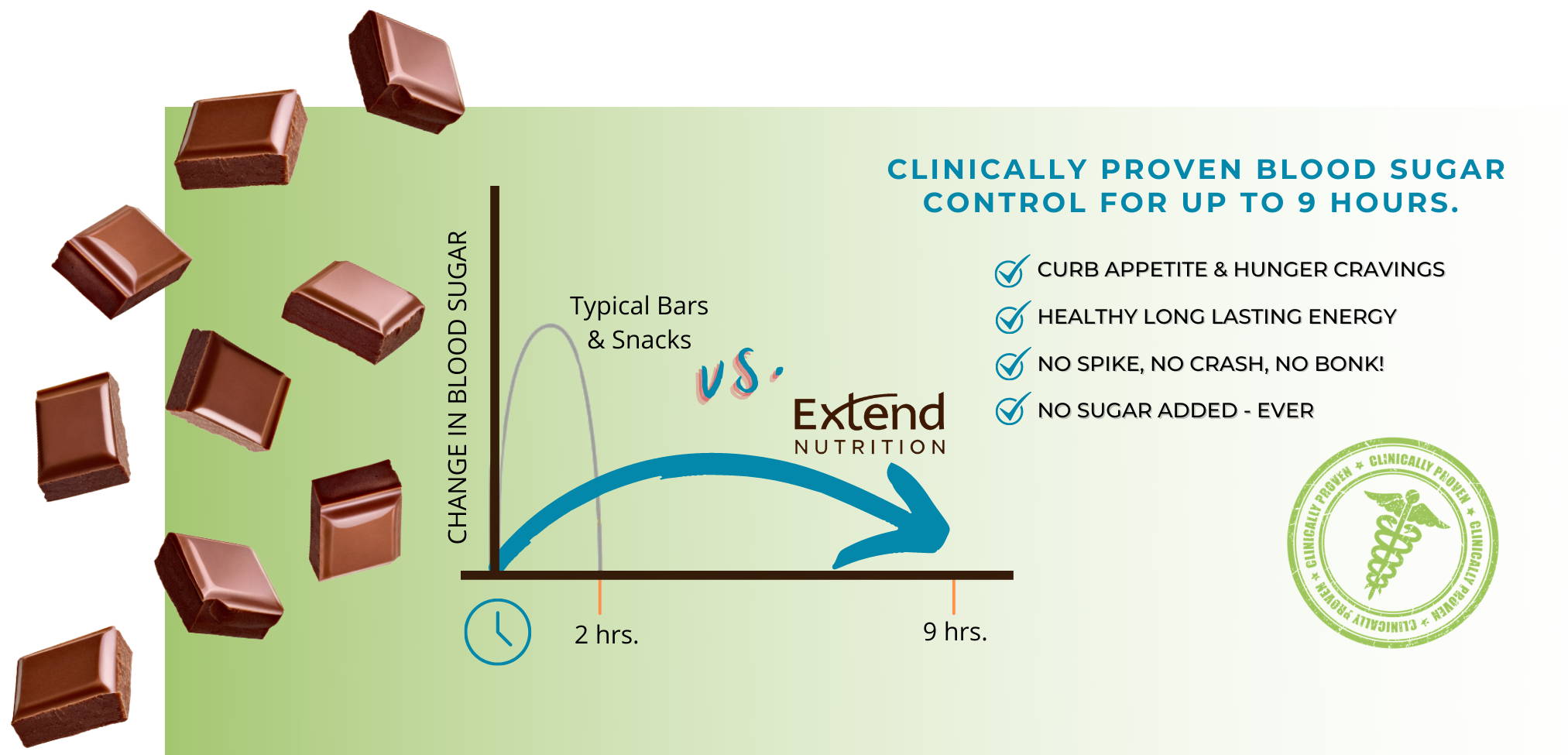 ---
DOCTOR INVENTED. LOVED BY MILLIONS.

Extend Bars are great! I'm a type 2 diabetic and have been fighting the sugar battle since 2005. I have lost weight (from 235 to 189 lbs), my morning blood sugar is lower and stays all day!

- S. Brown

I have tried dozens of low glycemic bars, but Extend Bars are the first to actually make me feel energized as I take off the pounds. I am a true believer in their patented formula - they work!

- Jessie C.
Extend Snacks are miracles!
They are the ONLY snacks that have helped me battle early morning highs. They are great and they work as promised. Extend Snacks are blessings!

- D. Sims
---