Vegan Protein Shakes | Protein Vegan Powder
*Free Shipping for Orders $42+. Discount applied at checkout.
only vegan protein shakes clinically proven to control blood sugar for 9 hours
The unique, patented combination of ingredients in Extend Nutrition Vegan Shakes are designed to break down gradually to help stabilize blood glucose levels for up to 9 hours. Our vegan shakes were invented by a leading metabolic expert, and clinically proven to control blood sugar.
Stabilized Blood Sugar = Hunger Control + Long Lasting Energy + No Spike + No Crash
LIVE THE EXTEND LIFESTYLE. BLOOD SUGAR CONTROL. HEALTHIER YOU.
plant based protein shake
How can Extend Nutrition Vegan Protein Shakes help you?
Our Vegan Protein Shakes are the only clinically proven formula to help control blood sugar for up to 9 hours. This is important for everyone. Blood Sugar is your fuel. You must have it - but in the right amounts. Too much (a sugar 'spike'), too little (a 'crash'), or lots of swings are dangerous. Keeping normal blood sugar levels is a key part of feeling great, avoiding long-term health issues, and managing your weight.
Our Vegan Protein Shakes are for everyone - whether it's getting through a daily routine, taking a workout to the next level, needing energy, controlling pre-diabetes/diabetes or just striving to become a healthier person.



---
best tasting vegan shake.

Serious Science, Serious Nutrition with the following benefits.
Helps blood sugar control for up to 9 hours

Clinically proven to help control

appetite cravings
No Spike, No Crash, No Bonk!
Suitable for All Ages

Curbs hunger & cravings

Higher energy levels

Reduces fat storage

No sugar added

Complements any healthy diet

Low Glycemic Index

Great taste backed by science

Low-Carb & Low Calorie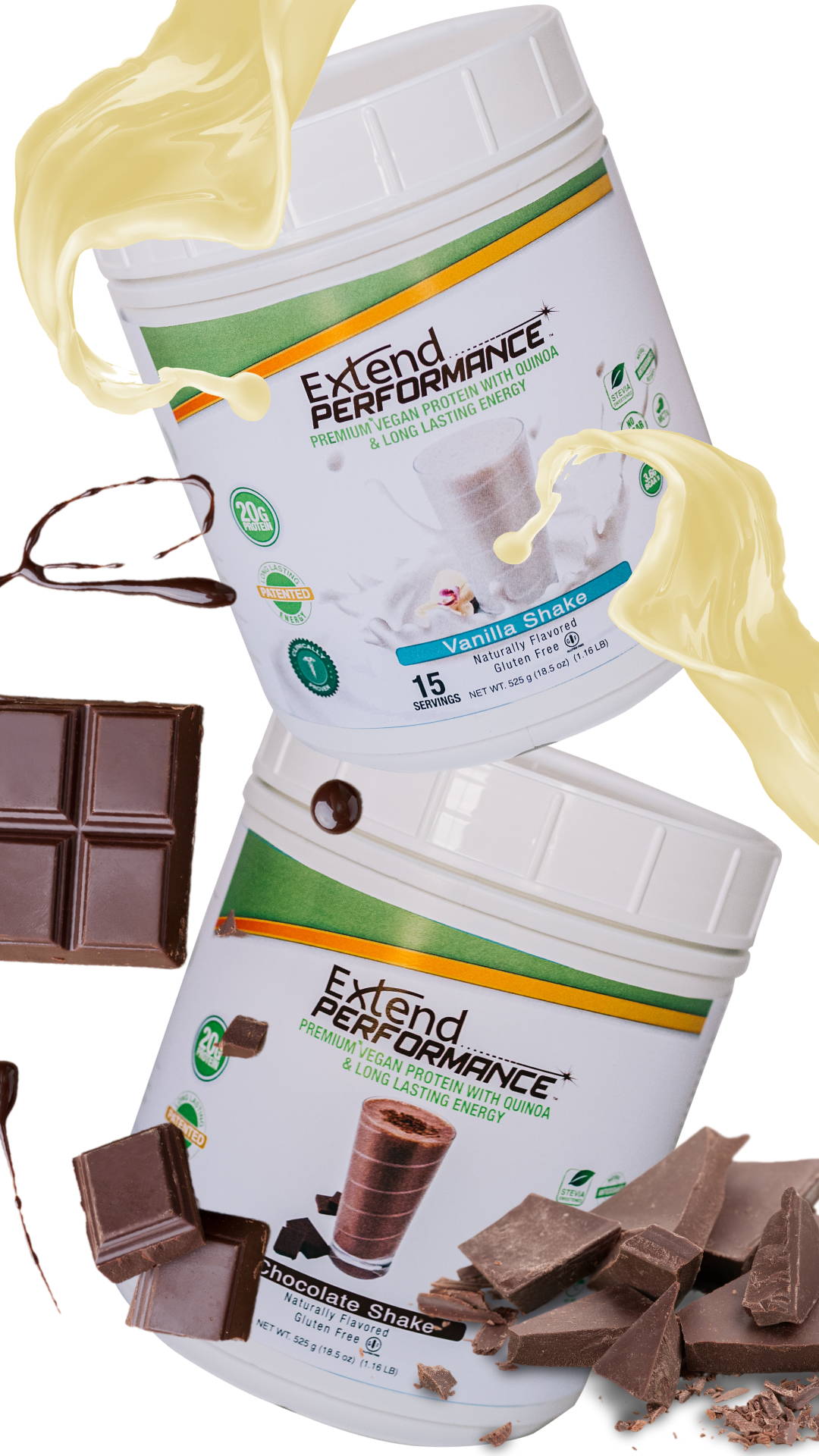 ---
*Free Shipping for Orders $42+. Discount applied at checkout.
NO QUESTIONS ASKED GUARANTEE!
If you don't feel the difference Extend Nutrition can make in your life after just one week of regular use (about 1-2 snacks per day), simply call us for a refund, no questions asked! But if you're like tens of thousands of previous customers, you'll be a believer in Extend!
Sign up to receive our VIP Offers, Newsletter & More!
---
Feel the Extend Difference...
---
Vegan Protein Shakes With Quinoa

20g Protein, No Sugar Added
Available in Vanilla & Chocolate Shake Mix
With a delicious, creamy vanilla flavor and our clean 3-Source Vegan protein blend: Quinoa,
Pea Protein and Brown Rice, our shake mixes provide unmatched Healthy, Long Lasting Energy


Best Choice For:
Before & During Exercise to Guarantee No Bonk

To Enjoy a Delicious and Satisfying Meal Replacements

To Improve Post Workout Recovery
Key Features:
Patented Protein Energy Formula

20g Protein

No Added Sugar

1g Fiber

Low Carb, Low Glycemic, Low Fat

Gluten Free

Only 140 Calories
---
Where Science Meets Pure Bliss...


I have low blood sugar and have tried over a dozen products on the market….I discovered your Extend Bars and Shakes, and I've had a most successful 75 mile bike ride. Thanks for developing this product! They really work!

- P. Puchalski
Gahanna, OH
I have been using Extend after my workouts and for healthy snacks for two years and I never get tired of them. I give Extend an A+ for getting it right!

- D. Skinner
Paoli, PA
Needed to get my spikes down...
I mixed with water, and couldn't believe it. Normally, powder taste chalky to me, this is great. I originally was looking for an alternative to those very pricey shakes, this is way better.

- BozX


*Free Shipping for Orders $42+. Discount applied at checkout.