Blood Sugar and Vegan/Plant-Based Protein
Posted by Jenaé Miles on
---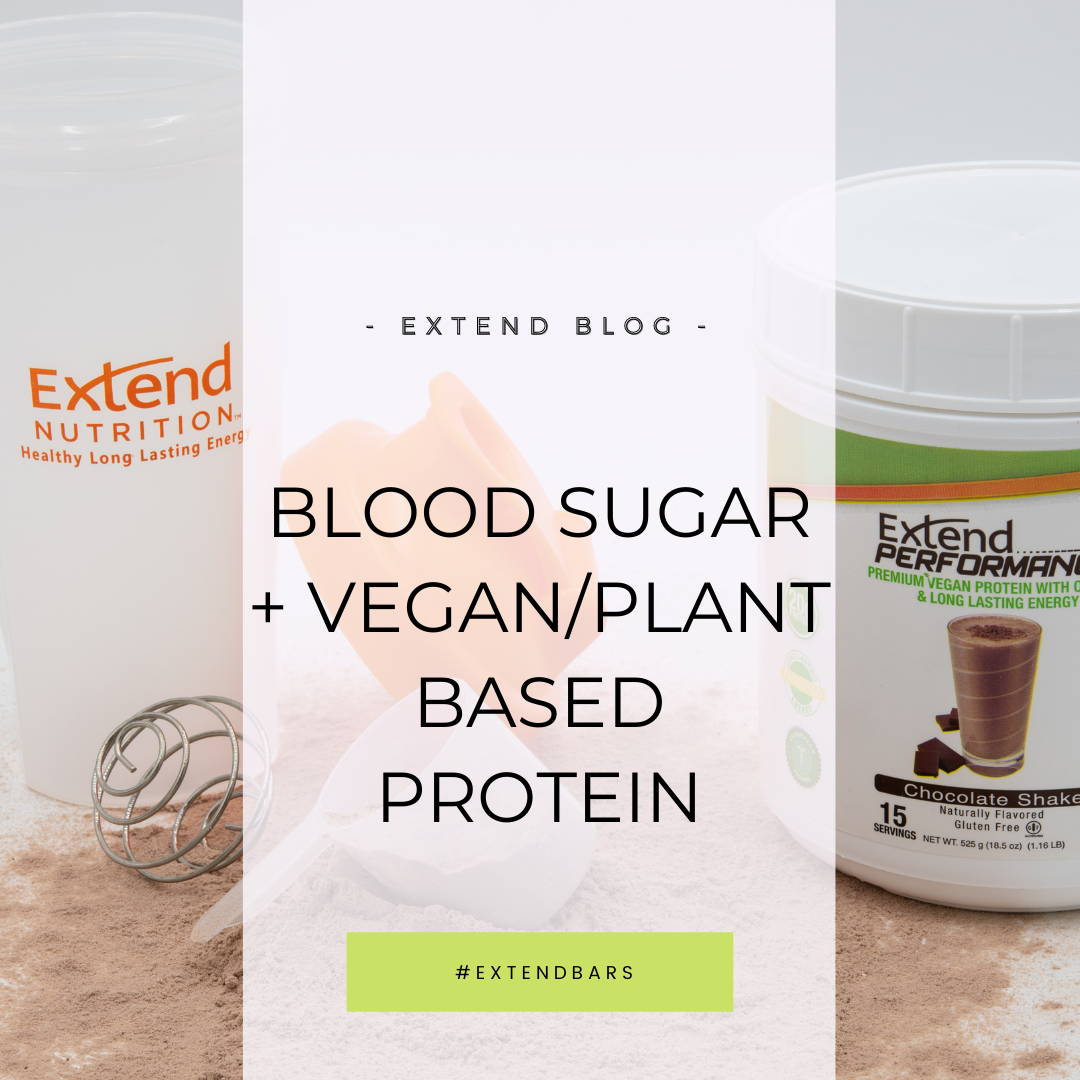 Vegan Protein Powder can help you maintain balance within your body? When you're vegan or reducing meat consumption, vegan meal replacement shakes are the perfect solution for keeping your energy levels high and staying productive throughout the day. Additionally, the protein boost can help you maintain normal sugar levels and improve your overall health.
---
Blood sugar, also known as glucose, is a form of sugar that circulates in the bloodstream, providing energy to all the body's cells. Glucose comes from three sources, the food you eat, metabolism, and what's stored in fat. The amount of glucose in our blood is carefully regulated by a series of tissues and organs—the liver, pancreas, and kidneys. 
These organs play a role in ensuring there is always enough blood sugar for the body to function. They monitor how much sugar is available, when you need more, and when you have enough in your bloodstream.
Glucose made from carbohydrates is the most common source of blood sugar. It's produced in the liver using glycogen, a chain of glucose molecules connected by chemical bonds to form long strands. Once released into the bloodstream, this glucose can be used immediately for energy production or stored for later use.
The two other sources of blood glucose include the breakdown of fat molecules and specific proteins made by the body from amino acids, which are the building blocks of protein. These substances can be converted into glucose when needed.

A little birdie told us you love good news, so sign up to hear new product launches, local events, and more.
---
What is Plant-Based Protein?
Most proteins from foods are derived from meat and dairy products. However, they're also found in plants. A plant-based protein is any type of protein that comes from plants and not animals. 
Plant-based proteins are a great option for people who don't eat meat, such as vegans or vegetarians. Additionally, individuals on a liquid diet for health reasons, including before or after surgery, might not tolerate dairy, which is the source of whey protein powders and shakes. However, they still need a rich protein source for energy and appetite control.
Healthy Foods High in Protein
You can get many of your nutrients from eating a healthy diet. As mentioned, protein is found in plant, milk, and animal products. 
Plants high in protein include,
Soybean sprouts

Lima beans

Spinach

Asparagus

Green Peas

Brussels sprouts
Vegetables are always healthy. When you move to dairy options, you need to look for low fat and high protein. The top options are
Greek yogurt

Cottage Cheese (consider low-fat for a leaner choice)

Mozzarella cheese

Cheddar cheese
If you're not vegan, you can add lean meat to your diet to increase protein. The best source is cooked chicken breast. The next best option is turkey breast followed by pork. However, wild fish is an excellent pick. Pair these lean means with the vegetables and dairy products above for a healthy meal. 
If you're vegan or a vegetarian, try a vegan meal replacement shake from Extend Nutrition. 
---
The Benefits of Vegan Protein Powder
Getting all the protein you need through foods can be difficult if you're vegan. Vegan protein powders contain no animal products, such as eggs, meat, dairy, and gelatin. These are ideal for increasing protein and achieving normal sugar levels. Your diet can control your energy and appetite, caffeine, and excess carbohydrates. 
The main types of vegan protein are soybean and pea-protein isolates or hemp powders. Commonly, the products are manufactured from plant sources and can be used as an additive for meals or drinks or blended with water or milk for shakes. Additionally, several mixes are made from a combination of these vegetarian sources. 
If you're a vegan or vegetarian who opts to avoid animal-based foods as part of your diet, here's why you might want to consider using plant protein supplements: by adding an extra 20 grams or more of protein per day.
---
---
Tips to Maintain Healthy Sugar Levels With a Plant-Based Diet
As mentioned, it can be challenging to maintain normal sugar levels with a plant-based diet. However, millions of people worldwide are happy and thriving with this lifestyle. Adding a vegan protein powder is an excellent way to keep your body happy with healthy glucose levels and natural energy.
Additionally, don't limit your time to managing sugar and nutrients. Other ways to support a healthy lifestyle and using vegan meal replacement shakes are to get seven to nine hours of sleep nightly and regular exercise. Also, don't slack on fluids. While using vegan protein powder shakes with milk counts towards 64 ounces of non-caffeinated liquids daily, you need a variety of low-calorie, low-sugar drinks throughout the day. 
---
Ways to Use Vegan Protein Powder
The great thing about vegan protein powders is that you can add them to dozens of low-sugar snacks to meet your nutritional goals. Below is a shortlist of options,
Mix with a sugar-free pudding

Blend into a fruit smoothie

Make protein-packed pancakes or waffles from scratch

Add a serving to your cottage cheese

Bake protein muffins for a mid-morning snack
Mix and match these ideas. Start your day with a fruit smoothie blended with vegan protein powder, have some cottage cheese with chocolate or vanilla shake mix mid-morning, and try it with sugar-free pudding before bed. 
---
Buy Extend Nutrition Anytime Bars and Shakes to Maintain Normal Sugar Levels
Vegan meal replacement shakes are a good way to maintain normal sugar levels. The Extend Nutrition Vegan protein shake formula is clinically proven to help control blood glucose and is vegan-friendly. So whether you're running in a marathon or just working full-time with kids at home every day after work, these drink essentials will help your energy level stay up without weighing you down - not only that, but they'll also boost blood sugar levels and healthy cholesterol, too.
One of the many benefits of protein shakes is that they're typically low in calories and fat, but high in quality proteins. The vegan protein shakes from Extend Nutrition are a perfect choice for those looking to replace their morning meal with something other than just coffee or tea. They contain 24g of plant-based proteins per serving. Additionally, each shake you make with our vegan protein contains no added sugars or net carbs. Energize your day with a guilt-free protein shake and promote overall wellness. Be sure to check out the many recipes with our vegan protein shakes from Vegan Chocolate Muffins to protein shakes. 
---